Do you know how to position your app? King of App shows you the keys to do so, as well as the guidelines and tools necessary to increase engagement with users, optimizing your apps as much as possible. <! - more ->
In 2012,
41%
of the population in
Spain
had a smartphone, a percentage that has grown to
81% today
, according to a
Google
study. And it is that the mobile industry, especially in terms of software, applications and web interactivity; it has increased tremendously in recent years. Currently,
54%
of the time spent in the digital world is on mobile applications. Between
Google Play Store
and
Apple App Store
there are more than two million applications. How can I make my application triumph in the crowd of apps? Thanks to
mobile engagement
.
mobile engagement
is the act of increasing
engagement
with your users through messaging channels both outside and inside the application. This method is used to generate
positive experiences and support corporate goals
, as well as to build long-term relationships with customers.
Not only with publishing the app, all the work is done, and it is that
70% of users stop using an app
in the
first 3 months
. The
promotion
and
positioning
of the app must be constant over time, even before creating the application. The
design of the app
, as well as its
monetization,
have to be clear from the beginning. The
ASO (App Store Optimization)
must be taken into account, one of the most important points when it comes to getting more downloads. We will highlight the most important criteria to improve the positioning in the main app stores
(Google and Apple)
. When we begin to plan the marketing strategy, it must be clear that the first point will be to create
expectation among the public
. To do this, we will explain how to achieve this, starting with the creation of a
landing page, videos and trailers
, or entries in a
blog
. In order to share all this promotional material created, we can use profiles on social networks, whether in the one with the most users
(Facebook)
,
Instagram
(photographic content and short videos) or
LinkedIn
, where we will find professionals in the sector. Actions such as
press releases
or
newsletter
will also help us to make ourselves known, as well as continue to retain the public.
King of App
will also show you what tools are available to generate
engagement
, such as
push notifications, gamification or analytics
. Thanks to these tools, we can improve the quality of the app and thus improve the relationship between brand and user. All these guidelines and keys will serve to get the
maximum performance out of your apps
and, therefore, for
your businesses
. The success of an application is not only to create and publish it, but also to be insistent and optimize resources to increase visibility before potential users.
Speakers
Catalina Serrano
Acquisition Director
at King of App, expert in communication and dissemination techniques specialized in digital marketing: SEO, SEM, Social Media, Email marketing, Growth Hacking and Content Marketing.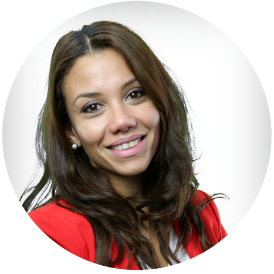 Paola Carbajal
Communication director, with more than 5 years of experience in content management and design in WordPress. Postgraduate in Advertising, Communication and Public Relations and another in Community Management and Social Networks.
See you at the next webinar!